Regular price
Sale price
$32.00 USD
Unit price
per
Sale
Sold out
Chemi-Pure Blue Nano
5 bags, 1 bag treats up to 20 litres of saltwater.
Keeps pH balanced and stable in your aquarium.
Is placed in with your tank's sponge filter.
Treats up to 20 litres of water
Chemi-Pure Blue Nano has been created to keep pH stable and constant, ensuring your water remains at high quality for longer.
The pack includes 5 bags, each designed to treat up to 20 litres of saltwater.
Replace each bag every 3 months.
Reduces the risk of losing jellyfish due to pH changes, and helps to keep your tank's water looking crystal clear.
Can also help where a jellyfish has lost appetite due a pH change of the water, and therefore can help to increase a jellyfish's lifespan.
Chemi-Pure Blue Nano is placed with the tank's normal bio media and therefore acts as an additional 'filter', it does not replace the normal bio media.
Share
View full details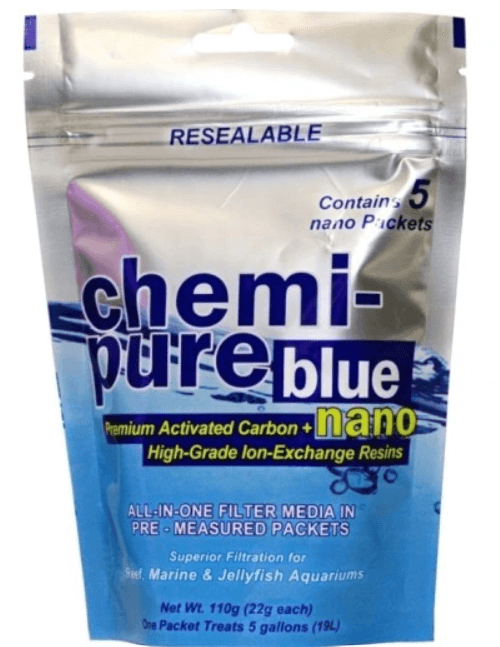 Customer Service Is Key

Our mission is to help you on your jellyfish journey throughout its duration. If you have a problem, we have a problem. By purchasing a starter kit, you automatically get our experienced customer support.

Extensive Knowledge

Along side our excellent customer service, all of our staff come from aquaristic backgrounds with extensive knowledge about marine animals to help you decide which product is perfect for you.

Secure Payment Methods

We understand that shopping online can be quite daunting, that´s why we have chosen select partners to ensure you can feel safe and comfortable while shopping at Pet Jellyfish Us.

Live Jellyfish

We breed all of our jellyfish in our specialized facility. We are against hunting wild jellyfish in the wild.

We Care

We work with animal protectionists and help maintain public awareness of jellyfish and the threat of certain species in the wild.

We Love Our Work

Our vision is a satisfied customer. We don't just do it for the money. We want to show people a way like no other. Come into the unknown with us.